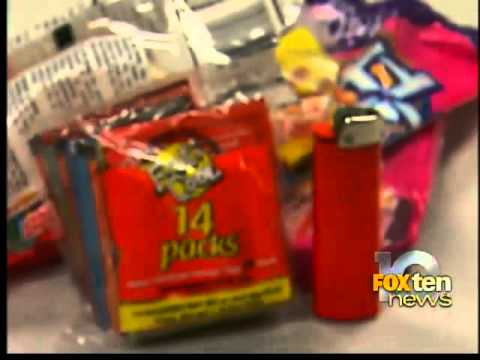 Bundle Yo Ass Up
As we start this morning's show it's a balmy -1 degrees. Wease opens the show talking about how sick Doreen is with a very bad flu... what she has has a special name, but Wease couldn't remember what it was called (he thought it was hoof and mouth disease, but only animals get that). Marianne spent $230 on an inhaler for her recently diagnosed asthma.
Wease also addresses the anti-casino coalition trying to stop a casino in the Rochester area, and the speech given by former mayor Bill Johnson. The biggest concern for the anti casino people is competition that it would provide for the racinos like Fingerlakes and Batavia Downs. This would be unfortunate, but doesn't every business face competition. Other supermakets have to deal with Wegmans. Can you imagine how popular the Wease Show would be if there weren't any other radio shows.
We are literally speechless after hearing about this trend that kids are partaking in these days. We know that kids will be kids, but this is just straight ridiculous.
Apparently kids are crushing up Smarties (yes, those sugary candies) and snorting and/or smoking the powder. They are huffing sugary power up their nose. Why? Because they're dumb kids who we guess want to look cool doing fake drugs? We can't decide if this is better or worse than kids taking up smoking to look cool. And apparently it's not a new trend, because if you search "snorting smarties" on YouTube, there are videos from years ago showing kids inhaling the candy just for kicks.
We have a new piece of info about the dangers of this we'll talk about later... stay tuned.
Tools With Sports
How much do you know about college basketball? Do you know enough to win a billion dollars? Warren Buffett is offering the billion for anyone that can fill out a perfect March Madness bracket. The odds are said to be 1 in 4,294,967,296. Get more info HERE.
Other topics discussed is the story that an indoor suite at the Super Bowl is going for a million bucks and the urban legend that hockey star Eric Lindros was once beat up by a figure skater.
What's Cheating?
The Christians of "Christian Mingle" and Jews of "J Date" have gotten together for a study on what men and women consider cheating. To see their results go HERE. Wease, Marianne, and Pauly all have various ideas of their own with Pauly being conservative on this issue... he thinks if you even talk to someone based on their attractiveness is a form of cheating. Wease and Marianne are much more liberal in their takes.
Bonus Content... Journey Inspires Every Popular Song Ever
Doug With News
- Car Crashes Into Police Cruiser
- Frigid Weather Returns To Northeast
- Mother Of 9 Year Old Hero Interviewed
- Greece Approves Mighty Taco Expansion
The bad weather today gets Wease abnd Doug talking about driving in the snow, the etiquette of getting on the expressway, and how it's juyst as dangerous to go too slow as it is to speed.
The Happy Hoo Ha
We're joined by our friend M.E., owner of the waxing salon "Mark and ME", and author of "The Happy Hoo Ha". She come in to promote her book and tell us some funny stories about dealing with vaginas on a daily basis.
She has also started waxing men recently, and talks about how she made that decision, and deciding legit requests vs. creepers.
Ask Wease
Text from earlier... If you're single, but the person you're persuing is in a relationship are you both cheating? Wease says NO!! Marianne disagrees, saying it's bad karma for you to bang someone you know is already connected with someone. Wease and Marianne also disagree on if chicks will bang a guy just because he's hot, even if he's dumb.
via email... A couple weeks ago Wease said that the Academy Awards was his Super Bowl. If you had tickets to the Oscars would he sell them and stay home to watch on TV, or go to the awards hoping to rub elbows with Jennifer Lawrence, Scarlett Johanssen, and Ryan Gosling for Doreen. Wease sells he'd sell them to the highest bidder because regular folks don't just get to rub up against the stars.
What advice would Wease give to parents of teenagers who have just started driving about being on the roads during terrible weather. Don't let them go out in bad weather until they get more confident on the roads.
Would you rather want to speak any language fluently? Or be able to talk to animals. Wease thinks it's a funny question, but easily chooses to speak every language... what does he care what the dogs and cats are saying besides "I'm hungry".
Bonus Content... Katy Perry's Big Boobs And Other Hot Shots
Rock Of Ages
We speak to a woman named Shannon Mullen, who is starring in the stage production of "Rock Of Ages" which is playing at the Auditorium Theater next Thursday and Friday. Just like everyone else we've talked to she thinks the play is awesome, and the movie is awful, so don't let the movie reviews keep you from this show. Shannon is from Rochester, and is now touring the country with this show.
Wrecking Balls
More stories from M.E. the waxing lady leads to a discussion of hairy guys like porn star Ron Jeremy, who had a new viral video with his parody of Miley Cyrus' "Wrecking Ball.
Porn Star Birthdays
Wease has been meaning to do a daily segment of porn star birthdays, and we finally get to a few we've skipped the past few days, and talk about chicks with big boobs and broken dreams. Many of the girls are AVN Award Winners, but is this the type of award you want to win.
If you run into Kobe Tai wish her a happy birthday...